Gustave Caillebotte (1848-1894)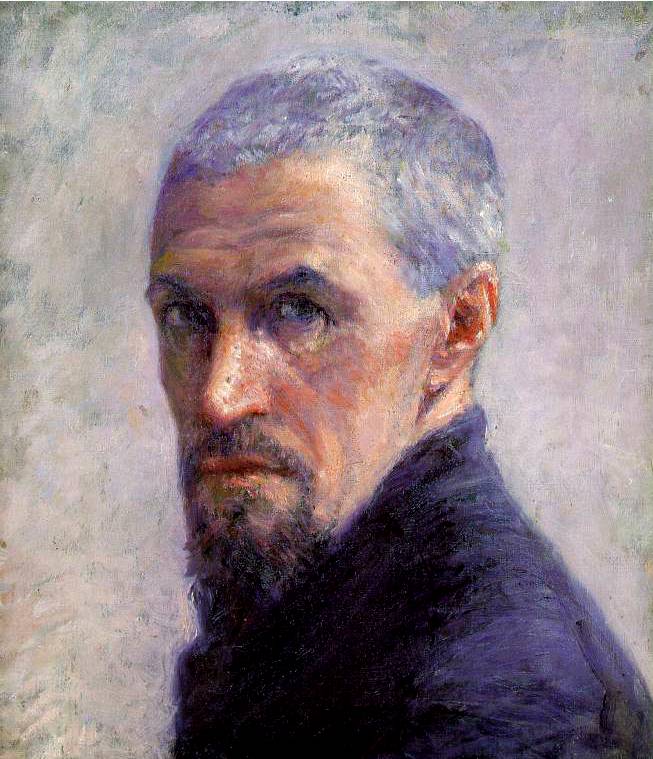 Self Portrait of Gustave Caillebotte (1892)
Gustave Caillebotte was born in 1848 to an upper-class Parisian family. His father, Martial Caillebotte (1799-1874), was the owner of a profitable textile business and was also a judge. Caillebotte earned a law degree in 1868 and was licensed to practice law in 1870. Shortly afterwards, He fought in the Franco-Prussian war of 1870, serving in the Garde Nationale Mobile de la Seine. After the war, Caillebotte began to seriously study painting. In 1873, Caillebotte entered the top French art school, the École des Beaux-Arts. At this time, Caillebotte met and befriended another haute bourgeoisie artist, Edgar Degas. His friendship with Degas brought him into the group of budding Impressionist artists that regularly gathered at the Café Guerbois in Paris. Caillebotte attended but did not participate in the First Impressionist Exhibition of 1874.
Caillebotte's father died in 1874 and he received a sizeable inheritance; this allowed him to paint without the financial need to sell his work. His wealth also allowed him to help fund Impressionist Exhibitions and support his fellow artists and friends including Claude Monet, Auguste Renoir, and Camille Pissarro, by purchasing their works and, in the case of Monet, paying the rent for his studio. In 1877, he almost single-handedly financed and organized the Third Impressionist Exhibition. This exhibition is considered by most art historians to have been the greatest Impressionist exhibition of all time.
At first glance, Caillebotte's style appears to be closer to Realism than Impressionism. However, like his contemporary Edgar Degas, Caillebotte aimed to paint modern life as it really existed and as he saw it; thus, he shared the Impressionist commitment to optical truth. Caillebotte painted many domestic family scenes, interiors, and landscapes, but he is best well known for his paintings of the new Paris created by Napoleon III and Baron Haussmann. His three greatest paintings include The Floor Scrapers (1875), Le pont de l'Europe (1876), and his masterpiece (see below) Paris Street, Rainy Day (1877). At the time, these paintings were considered controversial due to the banal and sometimes lower-class subject matter. The finely crafted architectural perspective of these three paintings is very characteristic of Caillebotte's work and may have been influenced by a new art form -- photography. Caillebotte's use of cropping and zooming techniques in many of his paintings is probably the result of his interest in photography. Several of Caillebotte's works depicted scenes taken from a high vantage point, including his many balcony paintings such as Jeune homme a sa Fenetre (1876), Boulevard Haussmann, effet de neige (1880) and Homme au Balcon (1880).
In the 1890s, Caillebotte greatly reduced his painting activities; he stopped making large canvases and no longer exhibited his work. In 1881, he acquired a country home at Petit Gennevilliers, on the banks of the Seine near Argenteuil. He devoted himself to gardening and yacht racing. He never married, but spent much time with his brother, Marital, and his friend the fellow painter Renoir, who often came to stay at Petit Gennevilliers. In 1894, Caillebotte died prematurely of pulmonary congestion, while working in his garden. He was interred in the Père Lachaise Cemetery in Paris. In his will he left his substantial art collection to the French Nation. However, since the collection was mostly composed of Impressionist works the Caillebotte Bequest became another controversial incident in the history of French painting.
During most of the 20th century, Caillebotte's reputation as a painter was overshadowed by his reputation as a supporter of the arts. However, now, more than a hundred years after his death, art historians have finally recognized that he was indeed one of the greatest artists of the Impressionist era.
Paris Street, Rainy Day (1877)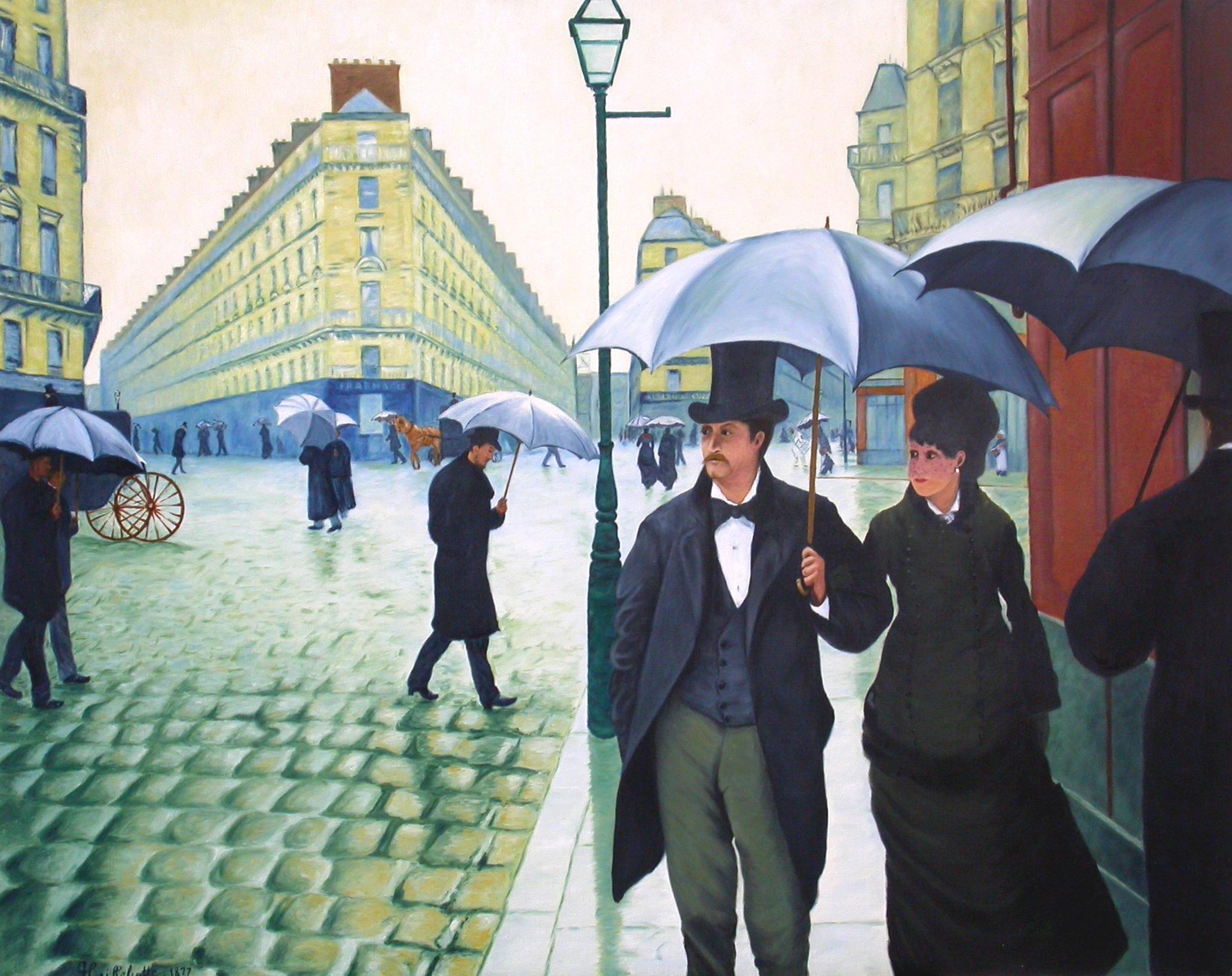 Paris Street, Rainy Day (Rue de Paris, temps de pluie) was completed in 1877 and is widely considered to be Gustave Caillebotte's finest work. This oil on canvas painting is very large, measuring about 7 by 10 feet. The work is on display at the Art institute of Chicago.
The following is an excerpt from the official catalogue of the Art Institute of Chicago, regarding this painting:
Gustave Caillebotte began his career by painting several very large pictures of the newly constructed neighborhoods of northern Paris. One of these, Paris Street; Rainy Day, shows a complex intersection near the Gare Saint-Lazare. A meticulous and highly intellectual artist, Caillebotte based the painting's careful organization on mathematical perspective. This monumental urban view, which measures almost seven by ten feet, is considered the artist's masterpiece. The painting dominated the celebrated Impressionist exhibition of 1877, largely organized by Caillebotte himself.
The Art Institute of Chicago is considered to have the finest collection of Impressionist and Post-Impressionist art in the United States. This work is my favorite painting at the Art Institute and it dominates the room in which it is hung. I consider it unusual for an American museum to have a European painting of this caliber.
Between 1853 and 1873, mainly due to the initiative and persistence of the government of the Second Empire (1852-1870), i.e., Napoleon III and his Prefect of the Seine, Baron Haussmann, the old Paris was transformed into a new system of grand boulevards and spacious parks. For 20 years the city was one giant construction project; the estimated cost of this endeavor exceeded one trillion US dollars (in 2004 money). The project was highly controversial at the time and probably would have never been started by the weak but democratic government of the Third Republic (1870-1940). However, the autocratic vision of Napoleon III drove the project and the Paris that we know and love today is the result. I suggest that we owe a great deal of thanks to Napoleon III and Baron Haussmann!
This painting provides an excellent example of Baron Haussmann's Paris, a newly rebuilt area in the 8th Arrondissement named the Place d'Europe, a square from which streets named for various capitals of European countries radiated. Gustave Caillebotte selected this complex intersection, near the Saint-Lazare train station, as his subject. He deliberately distorted the size of the buildings and the distance between them to create a wide-angle view that emphasizes the spatial modernity of the new Paris.
Caillebotte's family owned property near this busy neighborhood; it was populated mostly by wealthy Parisians, but also some working class people. In the painting, virtually all of the figures are of the upper classes. In the near foreground, a man sharing an umbrella with a woman, both wearing fashionable clothes, stroll down the sidewalk. On the extreme right is a man, also with an umbrella, who appears to be on a collision course with the couple. The other figures in the middle foreground, also appear to be of the haute bourgeoisie. The only working class folks are those in the far distance.
The highly crafted surface of the cobblestone streets, the monumental size, Pythagorean order, and mathematical perspective of Paris Street; Rainy Day seem more Classical than Impressionist in character. However, Caillebotte clearly intended for these elements to underscore the ability of painting to capture the momentary quality of everyday life -- a major goal of Impressionism. In this tightly cropped composition, it is easy to imagine that in just a moment everyone in the painting will have moved and nothing will be the same. I personally believe that Caillebotte has captured not only a "Protean Moment" but a "Plotinian Moment" as well!